WARRENTON KENNEL CLUB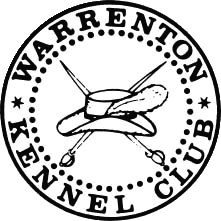 ATTENTION
Warrenton Kennel Club will be starting their Show Drop-In classes Tuesday, March 12, 2002, from 8:00 pm to 9:00 pm at the National Guard Armory in Warrenton. We anticipate that we will resume our regular class schedule in April.
The Warrenton Kennel Club, Inc. is a not-for-profit organization devoted to promoting the sport of pure bred dogs. The WKC is an American Kennel Club (AKC) licensed club based in Warrenton, Virginia. We are also members of the Virginia Federation of Dog Clubs and Breeders, Inc. The WKC holds two annual all-breed dog shows and obedience trials, an annual agility trial, an annual AKC sanctioned match, training classes, and several seminars and clinics throughout the year. Most events are held on our own showgrounds in Rectortown, VA or at the Warrenton Armory in Warrenton, VA.
---
---
President
Fred Konrad
Vice President
Tish Edwards
Treasurer
Georjean Mulley
Secretary
Lora Lerch Riggins
10516 Elk Run Road
Catlett, VA 20119
540-788-9992
Directors
Sylvia Fantasia-Broderick
Chuck Dennis
Jean Gillen
---
MEETING LOCATION AND TIME
Club meetings are usually held on the third Monday of every month at 7:30 p.m. The next meeting is Monday, March 18, 2002 at the John Barton Payne Community Building of the Fauquier County Public Library. Directions to the Fauquier County Public Library's John Barton Payne Community Building. The John Barton Payne Community Building is on the corner of Winchester & Waterloo Streets. It is across the street from the front of the library, and across the courtyard from the Fauquier Bank. You can park on the street, in the Fauquier Bank parking lot, or in one of the town's municipal parking lots. Directions to the meeting: Coming from the East, take I-66 West to the Warrenton (Route 29 South) Exit #43, continue on Route 29 to Blackwell Road (Chevrolet dealership is on the right, as well as the Giant, and the Hampton Inn is on the left). Turn Left (east) onto Blackwell Road, which becomes Alexandria Pike. (The library's parking lot is just past Horse Country Saddlery on the right).

---
MEMBERSHIP ELIGIBILITY
While membership is unrestricted as to residence, the Club's primary purpose is to be representative of the breeders and exhibitors in its immediate area. Applicants for regular membership must be eighteen years or older and must be in good standing with the American Kennel Club. Junior memberships are available for persons from 10 to 18 years of age. Junior members may not vote or hold office. The applicant must attend at least two (2) meetings or WKC events prior to applying for regular membership. A completed application form with sponsoring endorsements of two (2) WKC members in good standing must be accompanied by the proper dues. The application will be read at the first meeting of the Club following its receipt. At the next Club meeting, the applicant will be voted upon and an affirmative vote of 3/4 of those members present and voting at that meeting will be required to elect the applicant. Annual dues are payable by June 1st.

Dues
Individual ..... $10.00
Family ........... $15.00
Junior ........... $ 5.00
Membership Secretary
Pat White
8045 Bentley Lane
Catlett, VA 20119
540-788-9889 kajsa@erols.com


Print our MEMBERSHIP APPLICATION in html or in PDF format. PDF format requires Acrobat Reader available for free download.
---
PUBLIC EDUCATION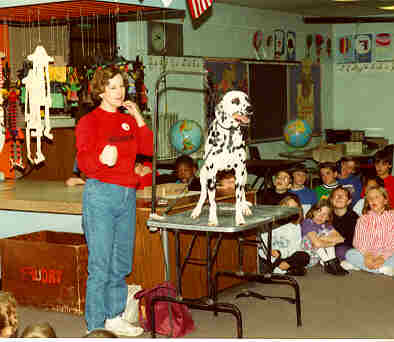 Warrenton Kennel Club is dedicated to promoting responsible dog ownership through the following programs:
"Best Friends" is a program for grades K-8 in which a presenter and well-trained dog visit classrooms and talk to the students about dog care and training. The dog demonstrates the training needed to make a dog a good family companion. A segment of the program covers how to behave around a strange dog and bite prevention. Reproducible activity sheets are provided for participating teachers.
Therapy Dogs are specially trained dogs that have been tested and certified to visit nursing homes, hospitals, etc... Visits can be arranged on a monthly schedule.
Speakers on various topics related to purebred dogs and responsible ownership are available to homeowner's associations, civic groups, scout troops, 4-H, etc...
Providing educational materials about responsible ownership and breeding such as:
To arrange for one of these programs, or for further information, contact the
Public Education Coordinator:
Kathy McCoubrey
(540) 349-9265


ravenwd@erols.com


---
BREEDER REFERRAL
The decision to buy or breed a dog is not one which should be entered into lightly. Each year tens of thousands of dogs are euthanized as a result of irresponsible ownership or irresponsible breeding. Warrenton Kennel Club wants you to have all the facts so you can make an educated decision. We can put you in touch with experienced, reputable breeders who will give you a wealth of information and answer your questions honestly and clearly. If you need information about a particular breed, contact our
Breeder Referral Chairperson:
Kathy McCoubrey
(540) 349-9265
ravenwd@erols.com


---
TRAINING CLASSES
Warrenton Kennel Club offers training classes on Tuesday evenings from 7- 9 pm at the Warrenton Armory.
Classes are taught in 8 week sessions at a cost of $50.00 per session. Advanced sign-up is a must as these classes fill quickly. See Upcoming Events for the start date of the next session. Classes offered include:
Puppy Kindergarten - a class to teach puppy manners and provide socialization activities for young dogs.
Good Manners - a class to teach walking on lead, sit, down, stay, etc... to adult dogs.
Sub-Novice & Pre-Open Obedience - classes to provide advanced training for the family companion or to prepare a dog for AKC obedience competition.
Show Handling - a class to prepare dogs and handlers for conformation competition.
Drop-In Handling - a class for experienced conformation handlers to provide an opportunity to practice and train. $5.00 per class for the first dog, $1.00 for each additional dog, payable at the door. Cash only. Drop-in is from 8 PM to 9 PM.
ATTENTION STUDENTS IN WINTER SESSION CLASSES!!!
According to training class policy, our classes are canceled when Fauquier County Schools are closed.

For information on training classes, contact the
Warrenton Kennel Club:
(540) 788-4150
WARENTONKENLCLUB@aol.com

Print our ENROLLMENT FORM in html or PDF format. PDF format requires Acrobat Reader available for free download.
---

UPCOMING EVENTS

Tuesday Nights
Training Classes
Warrenton Armory
4214 Fullerton Ave.
Warrenton, VA
7:00 p.m. - 9:00 p.m.
Warrenton Kennel Club will be starting their Show Drop-In Classes Tuesday, March 12, 2002, from 8:00 pm to 9:00 pm at the National Guard Armory in Warrenton. We anticipate that we will resume our regular class schedule in April.
See Training Classes for more information.

Warrenton Kennel Club Spring Show
Wednesday, April 17, 2002
at the fairgrounds in Fredericksburg, VA.

Warrenton Kennel Club's Fall All-Breed Dog Show and Obedience Trial will be held on Saturday, September 28, 2002 at the Warrenton Kennel Club Show Grounds Route 634 (Crenshaw Road), Rectortown, Virginia 22140
[Top of Page]
---
You are visitor
This page designed and maintained by Kathy McCoubrey